On the Bar with the Kane County Bar Association
The Kane County Bar Association has a podcast!
On the Bar with the Kane County Bar Association is a behind the scenes look into the local legal community. The third series of podcast episodes, titled Life Before Law, is hosted by KCBA member Andrew Whitfield.
About the Host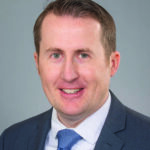 Find us on Apple Podcasts, Spotify and Anchor.
Andrew G. Whitfield is the Immediate Past President of the Kane County Bar Association. Andrew is an Assistant Attorney General at the Illinois Attorney General's Office, where he is the Deputy Chief of the Statewide Grand Jury Bureau. In that capacity, Andrew investigates and prosecutes multi-county drug trafficking, gunrunning, and money laundering offenses that are brought through various federal, state, and local agencies. Andrew has prosecuted cases in the following counties: Boone, Cook, DuPage, Grundy, Kane, Kendall, Lake, Lee, Whiteside, and Will.
Andrew was also an Assistant State's Attorney in Kane County for eleven years. Andrew is a member of the Judicial Evaluation Committee for Counties Outside Cook and the Corrections and Sentencing Committee, the Prosecutor Bar Association, and has given several presentations regarding topics such as drug-induced homicide, Fourth Amendment search and seizure issues, jury instructions, and other criminal law related topics to other prosecutors and law enforcement during his time at the Kane County State's Attorney's Office and Illinois Attorney General's Office.
Andrew can be reached at whitfieldandrewg@gmail.com